Gariel and Sue Cox Burchett Fund Scholarships and Honor Family with Current and Estate Gifts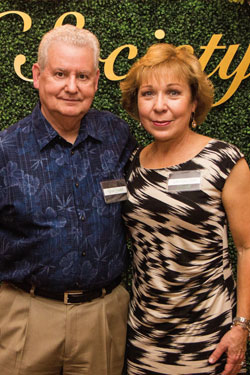 Gariel and Sue Cox Burchett's support of Georgia Southern comes down to two reasons: the University and family. Their three scholarships honor their families. "Georgia Southern has always been a center of knowledge that attracted new people to the area," said Sue, who grew up on a farm in eastern Bulloch County. Sue earned her bachelor of business administration degree in marketing from the University.
Gariel first learned of Georgia Southern when he met Sue. After four years in the Army, the Bradenton, Florida, native joined the U.S. Postal Service and later the Department of the Treasury after earning a BBA in accounting from George Mason University. "Sue's mother and father were heavily involved in Georgia Southern for many years and were very strong supporters," said Gariel. Sue's brother, Don, is also an alumnus and a College of Business faculty member.
"The first gift was made when my dad passed away," Sue said. Together with her brother and their mom, Jane Cox, a scholarship was established in his memory. "It was our way of continuing his legacy of giving back." After Sue's mom passed away, they renamed the award the Robert and Jane Cox Family Scholarship at the College of Business.
The couple has established two additional scholarships: the Hall, Cox and Burchett Family Scholarship, funded by gifts of stock; and the James W. and Helen Doris Burchett Family Scholarship, honoring Gariel's parents, which is designated as an estate bequest to the College.
"These gifts celebrate our family members and the important role education has played in our lives," said Sue.
Back
© Pentera, Inc. Planned giving content. All rights reserved.