Changes in Attitude—Gift Honors University's Positive Life Influences on Students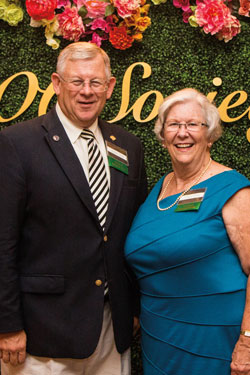 Roland Berry found some amazing treasures at Georgia Southern: A college degree, good friends, a new direction for his life, a sense of confidence and commitment, and a wife of 42 years.
"I think the real thing was that Georgia Southern gave me a new chance," said Berry. "I would classify myself as the high school nerd. When I got to Georgia Southern College, it was a new start for me—a fresh start. It changed my life, and I am so grateful for the University and for what it did for me."
Berry recently established a gift bequest to the Greater University Fund, which is a flexible endowment that helps to alleviate needs as they occur anywhere at Georgia Southern. His reasons for giving are simple, but deeply felt.
"My wife is a Double Eagle," he said. "My son is a graduate. So, there's two generations. The University changed my life. It's changed my son's. Those are really the reasons. We have lots of loyalty there. We love what it does. It had a significant impact on my life, and I am extremely grateful."
Living in Sanford Hall and later Brannen Hall, he made new friends and became involved in Greek life. "I joined Pi Kappa Phi fraternity. In those days, fraternities had just started at Georgia Southern and there was a lot of camaraderie," he said. "They were great guys. I learned a lot from them."
Berry, an accounting major, was admittedly not the strongest of students for his first couple of years. He recalled a session with Dr. Paul LaGrone, the legendary first dean of the then-School of Business. "I had three courses under Dr. LaGrone. He really instilled business ethics and business acumen in those classes. He wouldn't let you out of that business school until you toed the mark and started acting like a businessman.
"I was an average student, but he saw something in me. One day after class he called me into his office and spoke to me very briefly," Berry said. "How can I put this? He jacked me up. He used some pretty hard words and he told me he thought I had something worthwhile, but I wasn't doing everything I was supposed to be doing. Maybe in two minutes he told me to 'get with the program.' He got me turned in the right direction.
"I think that really helped me change my attitude and start down the right road. Dr. John Beagle was also in accounting," Berry added. "Dr. Beagle took an interest in me. Those guys were alike in that they would just pound it into you. You had to perform.
"My situation changed dramatically over the last two years I was there," he said. "I met my wife, I got a great group of friends, and I learned how to study. When you pile all that together, you can see the change that took place for me was dramatic."
He finished his accounting degree in 1972. The military draft was still in force and there was no end in sight for U.S. troops in Vietnam. "Graduating, my draft board sent me a letter and said they wanted to see me—which meant they wanted to change my status," Berry said. "I knew what was coming. They were going to draft me eventually. I could let them take me and put me where they wanted or I could enlist." Berry enlisted.
A coed named Teddie Dorminey first caught his eye in an English literature class taught by Dr. Pat Spurgeon. The two would marry three years after Berry joined the Army in 1972. She had been teaching in Camden County, Waynesboro and Thomson, but the two embarked on a world tour of more than two decades as an Army couple. Teddie is a "Double Eagle" alumna, earning bachelor's and master's in education. She has continued to be highly engaged with the University, serving on the Alumni Association Board of Directors and the Southern Women Board of Advisors.
Berry rose to the rank of lieutenant colonel during his two-plus decades in the military. His ability to utilize his accounting skills in the Army were what he enjoyed most. "That's what kept me in," he said. He later became an Air Force civilian employee in Tampa, Florida, spending almost ten years there, and then got a job at Robins Air Force Base in Warner Robins—where he spent the remainder of his career.
Back
© Pentera, Inc. Planned giving content. All rights reserved.