Fraternity Alumni Reunion Supports Golf Program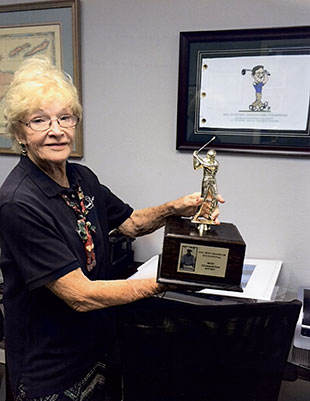 Mrs. Brooks Chandler (Jeff Chandler's mother)
When seven Georgia Southern Alpha Tau Omega brothers from the 1970s got together to enjoy a round of golf, no one had any idea it would turn into a decades-long tradition—much less that their annual reunion would lead to significant gifts for the golf program.
Mark Martin, Bill Charles, Steve Lang, Jack Harrell, Jr., Dan Gladman, Peter Shipps and Mike Kimball gathered at The Club at Eaglebrooke in Lakeland, Florida, near Thanksgiving in the early 1990s. The reunion continued, growing as new friends joined them.
In 1998 one of the ATO brothers, Jeff Chandler, passed away.
Mark Martin and Bill Charles said, "Why don't we try to do something in Jeff's memory? We all love our University, we all play golf and he loved playing golf too."
In 2002 each participant made memorial contributions to the University's golf team. Now, 14 years later, the Jeff Chandler Memorial Golf Outing program's gifts support both women's and men's golf programs. The outing has grown to up to 35 players each fall.
Martin said that they have no plans to slow down. "We have a continuing purpose: to give back to our University, keep Jeff's memory alive and keep our friendship alive and well."
Back
© Pentera, Inc. Planned giving content. All rights reserved.