In Our DNA
Kori Williams, Biology Major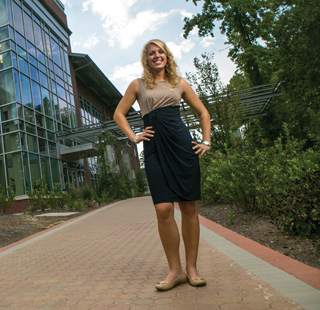 Kori Williams
Senior Kori Williams has had a lifelong fascination with how life systems function and is confident that the field of developmental biology will allow her to fulfill her academic and professional research goals. The biology major from Augusta, Georgia, says the undergraduate research opportunities available at Georgia Southern helped guide her decision to attend this University.
"I thought I only liked genetics, but I am also passionate about neurodevelopmental disorders," she says. "I want to understand how they happen, where they happen, and if there is a way to prevent them from occurring. Imagine if we could detect autism at its inception? My goal is not to change the disorders once they've occurred but to find preventative measures and more natural treatments for neurodevelopmental disorders."
Trained in zebrafish research by Professor Vinoth Sittaramane, Ph.D., Williams is currently working on a project stemming from an observational study in a Northern Finnish human population. Some individuals in the population have autistic behavioral tendencies, and a mutation in a certain gene has been found to be a common thread.
"Our research is working to modify and understand expression of this protein during brain development in zebrafish embryos, in hopes of relating it back to the Northern Finnish study and autism," Williams explains. "Professor Sittaramane has great ideas and is very knowledgeable on how experimental design needs to be executed," she says. "His expertise is key in interpreting and understanding the results we receive. It is evident that he enjoys the research he conducts and helps the other lab members to become successful research scientists."
Williams has a 3.79 GPA, is a member of Beta Beta Beta, National Biological Research Honor Society, and is a recipient of a Chandler Foundation research scholarship—which was made possible through the generosity of Charles and Sandra Chandler, a retired couple who moved to the Statesboro area in 2001. The scholarship provides a stipend along with travel expenses for conferences and compensation for lab supplies.
"I had the opportunity to meet the benefactor at a reception and was happy to express my gratitude because the scholarship is a real confidence booster," Williams says. "It means a lot to receive a research scholarship because it shows that what we are doing is important, and getting this type of support to fund my passion is simply amazing and encouraging." Kori is making plans to attend graduate school once she graduates next spring.
Holistic Approach
Professor Vinoth Sittaramane, Ph.D., Biology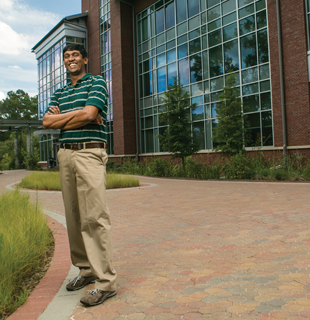 Dr. Vinoth Sittaramane
A popular aquarium pet is proving to be just the right model for the complex embryonic development research being performed by Professor Vinoth Sittaramane, Ph.D., and several graduate and undergraduate students in the new Biological Sciences building.
The sturdy zebrafish has been used in scientific research for nearly two decades, but it was introduced to Georgia Southern students when Sittaramane joined the faculty two years ago. The developmental biologist says the tiny fish is a great model because it is genetically similar to humans and is easy to produce, maintain, manipulate, and study in the lab.
Sittaramane explained that his student researchers are able to observe from day one the entire range of a living embryo as it grows from a single cell into a newly formed fish. This holistic perspective gives students invaluable direct hands-on experience in the new field of developmental biology. And this type of research could lead to the design of therapeutics for several human neurodevelopmental disorders such as autism.
As a result of their research Georgia Southern students have been able to publish their data in important journals and present their findings at regional and national meetings. Sittaramane acknowledges it is expensive to provide students with top-notch research opportunities like these. "We are doing a good job venturing into this new field, but it takes a lot of money to maintain what we are doing here," he said. "Your gift to Georgia Southern will help introduce more students to this exciting field of research."
Back
© Pentera, Inc. Planned giving content. All rights reserved.