Charting a New Path
Samantha Goldberg, Nursing Major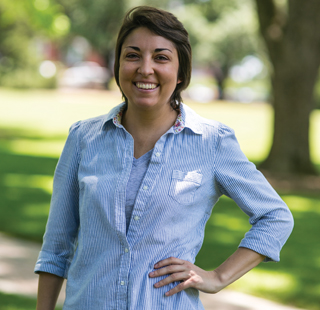 Samantha Goldberg
A seven-week hospital stay for Crohn's disease first ignited Georgia Southern nursing major Samantha Goldberg's desire to become a nurse.
The former business major says that's when she met a nurse who changed the course of her life. "She was so caring, so compassionate, and truly inspiring," Goldberg says. "I decided I would dedicate my life to making a difference to others the way she made a difference to me."
With her graduation coming up in December, Goldberg remembers feeling an immediate connection to the University and the School of Nursing. "I started at a much bigger school in Georgia where I felt lost," says Goldberg. "The first thing that stood out to me at Georgia Southern is our beautiful campus and how everything and everyone feels connected. The nursing program has been the highlight of my time here. You are in a class with 45 people for two years and they become your family and your source of support. This program is what everyone would want from their undergraduate experience."
The student from Eagle River, Alaska, has maintained a 4.0 GPA and made the President's List every semester. She says her achievements would not have been possible without a scholarship through the University Honors Program.
"Because of the scholarship I haven't had to worry about working while in school. The generous support I've received through scholarships has allowed me to dedicate myself 100 percent to my studies," she explains.
Goldberg says she and other students count on the University's generous donors because "they are helping to build a better future not just for students like me but also for the communities where we hope to go out and make a difference. You could say they are helping us pay it forward."
The nursing major adds that she is grateful to Georgia Southern for allowing her to chart her own career path. Goldberg plans to become a pediatric nurse with the goal of becoming a traveling nurse. She says her long-term goal is to become a nursing director at a camp for children with chronic and life-threatening illnesses, where she works over the summers.
"I am extremely passionate about the power of camp and the power of being with people who have such positive, bright, hopeful spirits," she notes. "Kids who are sick are not often understood or accepted by their peers and camp is a place where they can be themselves, feel loved, and learn and grow. Being a part of that experience for a child is the most amazing and rewarding thing I've ever done."
Pay It Forward:
Debra Allen, Associate Professor and Graduate Program Director for the School of Nursing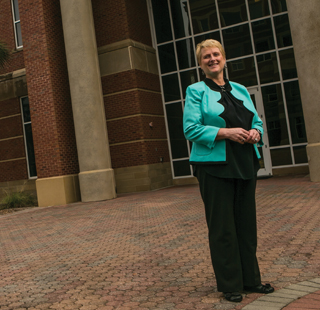 Dr. Debra Allen
Accompanying. Sowing. Catalyzing. Showing. Harvesting.
Mentoring, by definition, is both process and partnership: the informal transmission of knowledge, social capital, and psychosocial support from a more experienced or more knowledgeable person to a less experienced or less knowledgeable person.
This concept lies at the heart of Georgia Southern University's educational philosophy and is especially notable when it pertains to health care curriculum and research initiatives.
In her seventh year at Georgia Southern, Associate Professor and Graduate Program Director for the School of Nursing Debra Allen, Ph.D., FNP-C, BC, believes that it's vitally important for students and faculty to team up, especially on research projects. "I think we've created a wonderful atmosphere," says Allen. "As educators we're always trying to do the best job we can for our nursing programs and students."
This past year nursing student Samantha Goldberg partnered with the Crohn's and Colitis Foundation (CCF) of America in Atlanta to bring awareness of these chronic conditions to campus. "I can't take credit for her," says Allen. "She came to me with an idea. I told her that it'd be difficult and challenging. But she pulled it off. She really took off and ran with it."
At Georgia Southern Allen says students have access to faculty who continue to practice in their areas of nursing specialty, so they bring that current, hands-on experience to the classroom—which gives future nurses such as Goldberg the knowledge to succeed immediately when they leave school and pursue careers in the field. "Georgia Southern is truly a great environment for the students to learn. But it's also a wonderful place because the faculty learn just as much from the students."
But Allen admits scholarships are still so important to success. "It's not easy to go to school and pay all of it out-of-pocket. Donors who give money help us provide up-to-date information to students. It's a symbiotic relationship. We pass it on. They bring it back. And we learn from them again."
Back
© Pentera, Inc. Planned giving content. All rights reserved.