Astronomical Investment
Ryan Fortenberry, Ph.D., Assistant Professor of Physical Chemistry and W. James Morgan ('13) M.S. in Applied Physical Science Student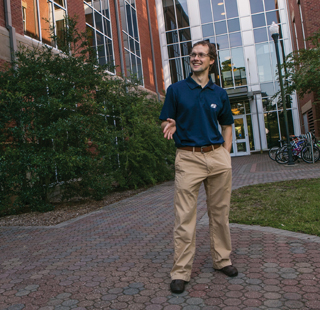 Dr. Ryan Fortenberry
Vision. Imagination. Inspiration. The quest for answers in life's unknown. Searching for clues about the universe's composition takes patience, powerful equipment, and minds trained for the challenge.
After just 14 months Georgia Southern University Assistant Professor of Physical Chemistry Ryan Fortenberry, Ph.D., has discovered more than just noble gases among intergalactic stars, but a high-level, high-performing University that has unique students with unique experiences to share. "I have found an inspired student body here at Georgia Southern," says Fortenberry. "I believe that everything I do as a research scientist, whether I'm conducting research or writing grants or presenting papers at conferences, should be to show people that Georgia Southern is an excellent University. We're not some 'fallback plan' if you didn't get into UGA (University of Georgia) or Georgia Tech. I feel it's my responsibility to let everyone know that and showcase the talented students we have right here in Statesboro."
One of those students is W. James Morgan ('13), a former chemistry major at Georgia Southern who is now enrolled in the master of science in applied physical science program with an emphasis in pharmaceutical science. During Morgan's pursuit of his undergraduate degree, he worked alongside Dr. Fortenberry to research interstellar molecules with regards to astronomy and astrochemistry or, as Fortenberry describes it, "the search for what molecules exist in space."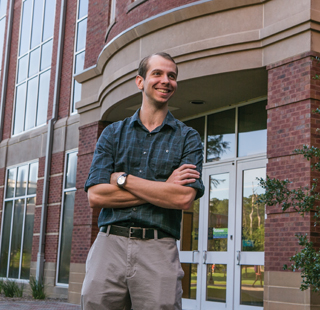 James Morgan
Fortenberry says much of what he and his students do is examine what environments occur throughout the universe and how they react with regards to what we see and experience here on Earth. Simply put, Fortenberry says what he does is "use computers to simulate the way that molecules interact with light and space."
Fortenberry equates it to a simple crime. He says if a criminal breaks into a house and there are fingerprints left behind, then that's a great clue to help law enforcement solve that crime. But if you don't have anything to compare the fingerprints to, then it doesn't do you a lot of good.
"My research is working on trying to generate those astrochemical fingerprints through spectra," says Fortenberry. "James was able to do this in relation to the collision of argon cations with hydrogen atoms." Their joint effort produced a paper that was accepted for publication by the prestigious journal Spectrochimica Acta Part A. Along with another student, sophomore Riley Theis, the team started work on the project the beginning of June.
They finished their research in mid-July and the paper was accepted in August. "In just three months we went from an idea with only the students and resources here at Georgia Southern to publication of our findings," says Fortenberry. "I really feel like we were able to contribute to the larger body of science. I was ecstatic." Fortenberry admits he's been blessed to have some of the brightest young people working on "this stuff with me."
Fifty percent of the research in the last year has come from students, says Fortenberry. He's been able to train James, who in turn has trained Riley. Now Riley is training other students. "I invested in one student, but by doing that I invest in them all," says Fortenberry. Dr. Fortenberry sees his role at Georgia Southern as twofold: to provide students with high-quality instruction and to "make the University look good," largely through research.
Fortenberry truly believes in Georgia Southern. He left a research position with NASA Ames Research Center in California to join the faculty after visiting campus and seeing the impressive research the University is doing firsthand. And he believes all of Eagle Nation helps get the "good stuff done" that we're capable of doing.
"The best chance we have is through the alumni, the donors, and the people who are interested in seeing Georgia Southern succeed," says Fortenberry. "Georgia Southern is unique, with a chance to make a unique impression on the future. We need other people who are interested in seeing us succeed." Fortenberry knows students like James have been given the chance to do "good things" through the money that is given each year but also "through the perspective about the quality of education at Georgia Southern and the experience that students receive when they're here. And it's the standard of quality they give back when they leave that speaks volumes."
Back
© Pentera, Inc. Planned giving content. All rights reserved.