Music Performance
Steven A. Harper, Ph.D., Chair of the Department of Music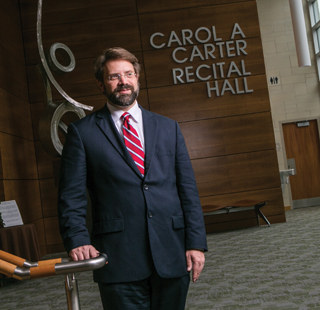 Dr. Steven A. Harper
Music performance majors as well as department of music faculty are among the hardest working and most disciplined individuals at Georgia Southern University.
"The department of music is composed of exceptionally talented and creative faculty members," says Curtis E. Ricker, Ph.D., dean of the College of Liberal Arts and Social Sciences. "They strive to provide the best educational and performance curricula to students."
One such professor is Steven A. Harper, Ph.D., chair of the department of music. Harper provides overall leadership, helps build the department of music's community profile and reputation, and teaches upper division music theory.
"At Georgia Southern you're going to get a lot more personal attention and a lot more opportunities," says Harper of our music majors. "That's especially important for singers interested in opera or musical theater because they get a lot more stage time here than at a bigger school. A place like Georgia Southern gives younger students the chance to move into their careers a little faster." The demands on music majors of their time are enormous? The dedication required and time commitments make it difficult for them to hold a job while honing their craft. Scholarships create more time and energy for Georgia Southern musicians to improve and enhance their skills.
Harper says that in music the recruitment of students is much more like what happens in athletics programs. "With musicians we have to go out and find specific people," says Harper. "We might need bassoonists or organists or violinists. It's more like a football player, where you have to find a quarterback or linebacker… there's a lot of competition for students who play instruments in which there aren't as many candidates available. The scholarships allow us to have a better chance of getting talented people here, so that we can keep the program balanced and we have what we need to be successful, but that students have what they need to be at their best.
"Music is everywhere," Harper continues. "If you think about how much music you run into on a daily basis even if you're not trying—it all affects us … the quality of the music that gets put into people's ears. It's important that we make the real effort and that we preserve this cultural heritage that we have of really first-rate, wonderful music. In order to preserve that, we have to have a critical mass of people who perform regularly and understand the material so they can educate the next generation. Students learn how the works of Bach differ from the works of Mozart or from the works of Wagner. It places their music-making in a larger historical context. We have a lot of music education majors at Georgia Southern; so by training them to help the next generation, we can keep this hopeful tradition alive."
A Perfect Match: The Music Matching Fund
In the spring the department of music at Georgia Southern University received an anonymous $500,000 gift that will transform the lives of some of the nation's most promising musicians. The gift is designated as a dollar-for-dollar match toward other scholarship donations made to the Fund.
"Scholarships enable the department of music to be more competitive in attracting the most talented young musicians to its programs," says Curtis E. Ricker, Ph.D., dean of the College of Liberal Arts and Social Sciences. The anonymous donor was inspired to give by the quality of the performances he or she was attending. Music groups at Georgia Southern include the Southern Chorale, Georgia Southern Opera, the Symphony, and both the Jazz and Wind Ensembles.
"This matching scholarship is a unique opportunity that only comes up once in a generation," says Department of Music Chair Steven Harper, Ph.D. "It's going to make a gigantic difference in the ability of the department to grow and flourish. We're really grateful for this donor … everybody's contribution is going to mean that much more if they can participate in this program."
Back
© Pentera, Inc. Planned giving content. All rights reserved.