A Family Affair
The Van Epps and the Wounded Eagle Fund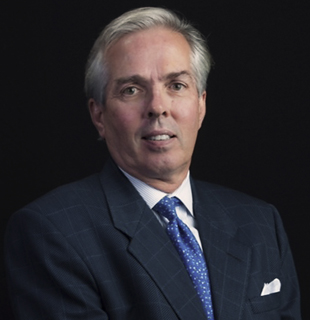 James Van Epps
James Van Epps ('77) is following in the tradition of many other Georgia Southern alumni who have endowed a fund at the University to benefit generations of students. Van Epps, a successful executive in the finance and insurance industry, decided he wanted to do something to help military veterans who face challenges as they transition back into civilian life and navigate the nuances of higher education.
The business administration graduate has endowed the Wounded Eagle Fund to benefit Georgia Southern veteran students and their dependents. "As alumni, I feel it is important that we act as good stewards and make sure our wounded veterans are given support," Van Epps said. "Everyone benefits from the services that the military gives us over a lifetime, and it is important for us to support these deserving men and women after they have served their country."
Georgia Southern has been named among the most military-friendly campuses in the nation by both G.I. Jobs magazine and Military Advanced Education's "Guide to Military Friendly Colleges and Universities." Still, veterans who return to the classroom may struggle physically, psychologically, or financially. The Wounded Eagle Fund provides direct help to the brave men and women who have sacrificed to preserve our nation's freedom. It was established to supplement the benefits provided by the G.I. Bill.
For Van Epps, the Wounded Eagle Fund is a family affair. He and his wife Buff ('77) have hosted events for Wounded Warriors, and their son Jason ('10) helped design the Wounded Eagle Fund Web site.
"I want alumni to know that this fund is a unique opportunity for them to make donations that go directly to wounded veterans on Georgia Southern's campus," he said. "Donors will know where their money is going, and they have the potential to meet the people the Fund assists."
Military students eligible to receive assistance from the Wounded Eagle Fund include veteran Wounded Warriors from any branch of service who maintain a 3.2 GPA, Purple Heart recipients, or veteran students with a demonstrated financial need. Van Epps explained that being at Georgia Southern "was an exceptionally important period in my life. I made many good friends there and received a great education, and it helped start my career in the business world. Georgia Southern provided me with a good foundation."
That foundation is what he wants for the University's wounded veterans.
Boots to Books
Student John L. Kitchens, Business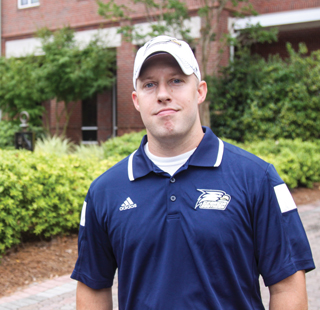 John L. Kitchens
Writer Jose Narosky once penned: "In war, there are no unwounded soldiers." John L. Kitchens enlisted in the Marine Corps in 2002, not long after 9-11. In 2012 Kitchens was wounded by an enemy hand grenade while conducting counter-insurgency operations in Fallujah, Iraq.
He served as long as physically possible before eventually being medically retired, diagnosed with both a traumatic brain injury (TBI) as well as post-traumatic stress disorder (PTSD). Today the former staff sergeant is a thriving business major at Georgia Southern.
"I was born in Statesboro," said John. "As a kid I always looked to this University with a feeling of awe. I imagined going here. I'm thankful to be home with my family but also for the opportunity to further my education." After several tours of duty John received numerous commendations, including a Purple Heart. "When I was 18, I knew my service to the Marines was my first calling in life," said John. "I'm chasing that next calling at the moment, and I hope to inspire and influence everyone around me in the process. My family is my number one priority. I don't know where I would be without my wife and our two children."
Indeed, the numbers of wounded veterans are at times overwhelming. But you can help. To Georgia Southern University and the Wounded Eagle Fund, our veterans are not just a number. They are family. They are part of the Eagle Nation. "Veterans returning home need support," said John. "The G.I. Bill alone is not always enough, and coming home to a new way of life can be difficult. The funds given directly impact veterans like me and help them continue to chase new dreams. This scholarship gives me peace of mind but also gives me confidence in knowing that the University is actively supporting our wounded veterans."
To do your part to support the Wounded Eagle Fund, visit GeorgiaSouthern.edu/woundedeagle.
Back
© Pentera, Inc. Planned giving content. All rights reserved.