Southern Pride
Camden Batchelor, Logistics & Intermodal Transportation Major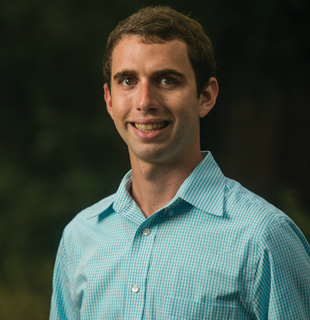 Camden Batchelor
When Camden Batchelor looked around for a university that would provide him with an outstanding logistics/intermodal transportation program, he knew Georgia Southern was the right place for him. He wanted to pursue his education in a logistics program that had connections to companies in his field, and the University's proximity to the Port of Savannah and Hartsfield-Jackson International Airport in Atlanta did just that.
"Everything in transportation involves logistics, and my interest in the planning and implementation of the flow of goods started when I was in elementary school," he said. "We used to vacation on cruise ships, and I was always fascinated by the big container ships at the ports? However, I love all modes of transportation, regardless of whether they are ships at a port, trains, trucks, or airplanes."
Logistics is a rapidly expanding field with plenty of opportunities, which is one of the reasons Batchelor is earning his degree in it. "There are so many options available to you," said Batchelor, who envisions a career in supply chain analytics at a freight brokerage firm.
The Eagle Scout from suburban Atlanta has a 4.0 GPA and is a member of the Delta Epsilon Iota Academic Honor Society and of Beta Gamma Sigma, the international honor society for business. He is the recipient of several scholarships including the Robert Cox Scholarship in the College of Business Administration.
"The scholarship means the world to me," he said. "Nowadays college is so expensive, so receiving it has really helped me prepare for my future. I would encourage anyone to give because there are so many talented people out there whose dreams may not be realized because they can't afford college."
The Georgia Southern senior credits faculty for helping him achieve his goals. "I have enjoyed all of my professors and think they do a great job of conveying in class what happens in the real world so that we know what to expect before we start our careers," he said. "I am in their offices all the time asking questions, and they are very open to students."
With graduation only a few months away, Batchelor says what he will miss most is participating in the Southern Pride Marching Band and playing before thousands of people at halftime.
The Next Generation
Misty L. Loughry, Ph.D., Organizational Behavior and Strategy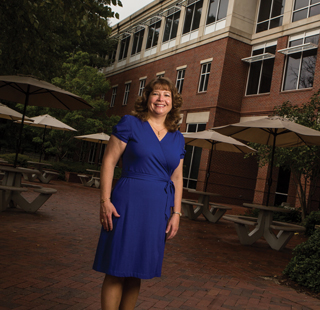 Dr. Misty Loughry
Leadership. Teamwork. Self-confidence.
In her eighth year at Georgia Southern, Misty L. Loughry, Ph.D., teaches organizational behavior and strategy to undergrads and at the MBA level. Her primary research includes working on an online system to help faculty and students be more successful with classroom teamwork.
"Our goal is to create better teams, have students like team activities, and experience better satisfaction in groups. When students learn the right things to be successful together, there is lower conflict and greater outcomes across the board."
Loughry believes Georgia Southern creates value for these students. "We have a really big impact," she says. "We reach students at a time when they're developing as human beings and getting ready to go out into the job market and change the world. The best moments are when they write back once they've gotten a job or started a family. The most exciting times are when you hear back from students and they tell you that the things you've taught them have made them successful. That's really as good as it gets from a teaching standpoint."
And Dr. Loughry feels especially passionate about teaching first-generation students because she can see the immediate difference her influence can make.
"I was a first-generation college student myself, so I see that need and appreciate the value. I know these students sometimes need to build self-confidence. They need to know how to navigate life and feel comfortable to ask questions and use resources to their advantage. They just usually have to learn a lot more, and not just about subject matter."
"The students are really special here," Loughry continues. "I know Georgia Southern makes them better prepared and more self-confident, so they can find their way and choose a path that's a good fit. Private donations still fund the sorts of things that make quality better, and that really matters the most for our students and their future success."
Back
© Pentera, Inc. Planned giving content. All rights reserved.