Embrace the Journey
Azell Francis ('13), Master of Science in Applied Engineering Student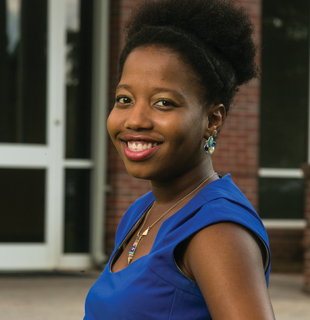 Azell Francis
Student Government Association (SGA) President and master of science in applied engineering student Azell Francis ('13) recently spoke about the importance of providing scholarship opportunities during a press conference to celebrate the University's renewed partnership with The Coca-Cola Company.
As an international student from Trinidad and Tobago, Azell is fulfilling her college aspirations because of generous donors and the monies earmarked for those who need it most. "I think scholarships allow recipients to think bigger," said Azell. "For most, we think 'how can I make whatever dream I have a reality?'
"Unfortunately, financial barriers oftentimes make you think within a particular 'box.' But when someone who doesn't even know you or your story is willing to invest in you through scholarships, then that box expands and your dream can become a reality. You can tell yourself, 'I no longer think within this box because I don't have to worry as much'... instead you're thinking, 'What do I really want? What is my definition of success?' And when you have the freedom to think that way, you make the correct steps to achieving it."
The idea of giving back is near and dear to Azell's heart. As an undergraduate engineering major at Georgia Southern University Azell was awarded an International Diversity Scholarship, which enabled her to pay in-state tuition.
Even today Azell talks about the "big, big role" scholarships played in her not only attending Georgia Southern but thriving beyond even her own expectations. One of the initiatives Azell supports and has made a priority since becoming SGA president is the University's Eagles for Eagles program.
"Eagles for Eagles is an initiative to raise funds for students in extreme financial hardships," said Francis. "We as the Student Government Association represent all of the students, so we need to make sure we reach out to them in any way or capacity. Yes we're SGA. Yes we're government, but we are Eagles first."
Like so many of our exemplary students, Azell wanted to be exposed to new cultures, different ways of thinking, and push her own boundaries, obstacles, and perceived limitations. Azell says we challenged her to think about where she fit in, not just as a resident of Georgia and citizen of Trinidad and Tobago but on a global scale and as a global citizen. We challenged her, as we do all of our 20,000-plus students, to think bigger; and she has done just that.
Azell is the first international student to serve as SGA president and the first female president since 2009. She ran on the idea of "We the Eagles," which encompassed Eagles being elected by Eagles to better serve Eagles.
"It's amazing that students here care so much about other students. Time and time again we have an amazing team of students who volunteer their time and energy into putting on great events to help raise money for students in times of need."
Azell is one of five children. Most of her family is still in Trinidad, but she has one sister in Atlanta and another sister in London. Her ultimate goal is to one day become a United Nations ambassador. But until that day comes, Azell would like to work for a global company so she can exercise her passions for language and diplomacy.
"I encourage everyone to journey with me to the future," said Francis. "I encourage people I meet to always remember their purpose. Embrace their journey. You are the author of your story and what greater purpose is there than that of sincere gratitude."
Together as Eagles we are grateful for Azell as well as the generous donors who continue to make dreams and journeys come true.
Back
© Pentera, Inc. Planned giving content. All rights reserved.