Educating the Future
Donor: The Kiwanis Club of Statesboro in honor of Ben Waller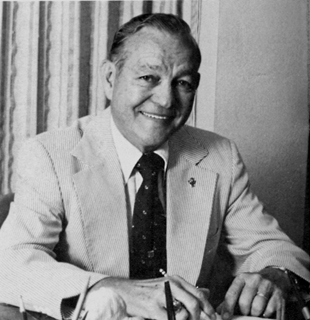 Ben Waller
Often referred to as a "working club," the Kiwanis Club of Statesboro has been working steadily for the past two decades to create a promising future for Georgia Southern University students. Through the years the 100-plus-member civic organization has created two endowed scholarships awarded annually to several University freshmen.
The Ben G. Waller and Dr. George E. Parker Kiwanis Scholarships honor two career educators and longtime members of the club who made a significant difference in the lives of students and the community. The Ben G. Waller Scholarship was endowed in 1988. An active Kiwanian for more than four decades, Waller's distinguished professional career included working as a coach and high school principal around the state of Georgia. He was a 1943 alumnus of Georgia Teachers College and later returned to his alma mater to become Georgia Southern's dean of students. A leader on campus and in the community, Waller was also the recipient of the Kiwanian of the Year Award.
"Ben was something of a patriarch among the club's respected educators," said Dr. Jake Simons, a College of Business Administration professor and scholarship committee chair of the Kiwanis Club.
The second endowment was named for Parker, a Georgia Southern alumnus who served as a principal of local schools as well as a member of several education and community service organizations. Parker's commitment to education included chairing the club's scholarship committee for many years, and he was the recipient of the Deen Day Smith Service to Mankind Award.
"George was widely known because of his work as an educator. He was involved in the education of many. He brought out the best in people, and he wanted them to succeed," Simons said. "For many years our club steadily built contributions toward a second endowment. Before George passed away, I was able to share the news with him that the club had decided to name this endowment in his honor," he said about the new scholarships that are committed to educating future generations of Georgia Southern students.
Ben Waller/Kiwanis Club of Statesboro Scholarship
Student Recipient: Thomas Hefner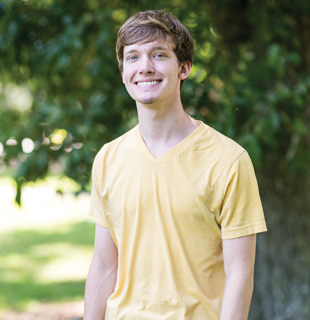 Thomas Hefner
For Thomas Hefner the Ben Waller/Kiwanis Club of Statesboro Scholarship came with an extra benefit—he could volunteer his time to the organization and indulge his love of nature and the outdoors at the same time.
After Hefner met with Kiwanis Club members to extend his personal thanks for the scholarship, he completed at least a week's work of volunteer hours at the Statesboro Kiwanis Ogeechee Fairgrounds. "When I learned that I had received this scholarship, I was so grateful because the thought of paying back college loans is daunting," he said. "These funds have definitely helped me pay some of my housing fees and other things that the HOPE Scholarship doesn't cover."
Hefner is from Calhoun, Georgia, a small town nestled in the foothills of several mountains, and he enjoys spending time outdoors—whether it's camping, rock climbing, bouldering, or even hammocking in Sweetheart Circle. The chemistry major arrived at Georgia Southern knowing he wanted to become a pharmacist just like one of his aunts.
"I have always been fascinated by science, and as a pharmacist I would deal with it every day," he said. "More important, I would be mixing medicines to help people. I feel so passionate about this. I think it is important to feel enthusiasm for whatever it is you want to do in life." The sophomore said while southeast Georgia and the University are new experiences for him, he believes both are a good fit and is glad he made the choice to visit Georgia Southern on Scholar's Day when he was a senior at Gordon Central High School.
"There are so many interesting things here," he said. "I love everything about the University, and the teachers are so helpful. I'm not just another face in the crowd."
Back
© Pentera, Inc. Planned giving content. All rights reserved.