Providing Opportunities
Donor: Dr. Mary Hazeldine
Giacomo Family Memorial Scholarship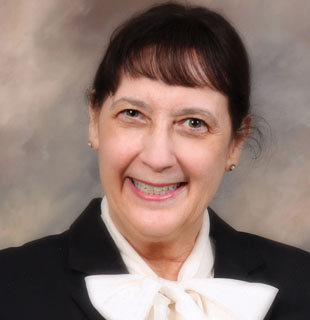 Dr. Mary Hazeldine
While teaching marketing students is an important daily motivator for longtime Georgia Southern University professor Dr. Mary Hazeldine, ensuring their future is also a top priority. Shortly after joining the faculty of the College of Business Administration as the department chair of marketing in 1995, Hazeldine established the Giacomo Family Memorial Scholarship. The Giacomo scholarship is awarded annually to junior-level marketing majors with a 3.0 minimum GPA. Hazeldine named the scholarship in memory of her family—a close-knit clan from Krebs, Oklahoma. "I wanted to recognize the Italian side of my family. I grew up in an Italian settlement with aunts, uncles, cousins, and my grandparents. All of the family was born in Krebs except my grandfather, who moved to the U.S. from Costa Leone, Italy, when he was 14 years old," she said.
Hazeldine's varied career has taken her around the United States as a teacher and business owner. She received her B.S. and M.A. degrees from Oklahoma State University and her M.B.A. and Ph.D. in marketing from the University of Texas at Arlington. While earning her degrees, Hazeldine owned a Deck the Halls franchise—a one hour martinizing store—and was also a buyer for the housewares division of Federated Department Stores in Dallas.
During her career at Georgia Southern, Hazeldine was appointed COBA's associate dean in 2006 and returned to faculty as a professor of marketing in 2010. Some of her other roles include serving as a reviewer of the Journal of Marketing Theory and Practice, and the faculty advisor of Mu Kappa Tau—the College's marketing honor society. In the classroom Hazeldine inspires students by providing a valuable learning tool—a unique perspective from her own personal marketing experiences in the corporate world. Hazeldine makes learning fun in her e-commerce class, and for a recent project she divided the class into teams. "The students selected a Fortune 500 company to research and then completed presentations. For example, some of these companies included Intel, Amazon, Yahoo, and Oracle," she said describing the varied aspects of marketing taught in her class. "I tell students that marketing is everywhere. Every company needs marketing."
For Hazeldine these words ring true. She has proved that marketing is not only a message but a legacy.
Giacomo Family Memorial Scholarship
Student Recipient: Jazmin Tribble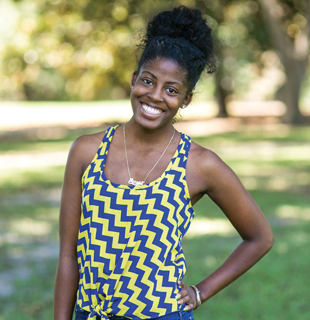 Jazmin Tribble
Georgia Southern University senior Jazmin Tribble is a big believer that discipline and focus are the keys to success. Without a doubt, these qualities have helped the Atlanta native achieve academic success as a recipient of the Giacomo Family Memorial Scholarship. Despite working part-time, the marketing and logistics double major has maintained a 3.81 GPA and is a member of Beta Gamma Sigma—the honor society for business students. "This scholarship has helped me so much in paying for my education and getting me one step closer to graduation," she said.
The much-needed funds have helped Tribble fill the financial gap not covered by the HOPE Scholarship, her summer job, and her position as a community leader for University Housing. With the encouragement of her academic advisor and the department of marketing, Tribble applied for the Giacomo Family Memorial Scholarship and later got a call telling her that she had been selected. The academic achiever said she was very excited and happy to receive the financial assistance. "It means that hard work and dedication really pays off," Tribble said. "Even when you think nobody sees your efforts, they do." Initially, Tribble came to Georgia Southern as a marketing major. However, that changed when several students were invited to her introduction to business class to discuss different business majors. "One student talked about logistics and I had never heard of that, but she made it sound interesting so I researched it and decided to double major in business and logistics," she explained. After graduation, Tribble's immediate goal is to get a job with Norfolk Southern Railway. "Then I would like to go to law school so I can achieve my career goal of writing contracts for transportation companies." She said her passion is transportation and figuring out ways to make it as efficient as it can be.
Back
© Pentera, Inc. Planned giving content. All rights reserved.