Steadfast Support
Donors: Scott & Janet Lubas
McKeever Scholars Program & McKeever Scholarships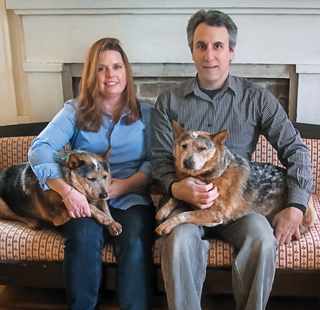 Janet and Scott Lubas
A professor's impact on students' lives today and 20 years from today can easily be underestimated—especially by the professor. But the students of the late Sturgis McKeever know the truth of it.
During his 26 years as a Georgia Southern biologist—and beyond—McKeever influenced the lives of thousands of Georgia Southern students, many of them medical researchers and physicians like Scott ('88) and Janet ('87) Lubas. "Dr. McKeever was amazing," said Janet, an internal medicine physician. "Sturgis is probably the reason I went into medicine. He was the most demanding professor we ever had. For somebody who made that big of an impression on us, we thought we should do something that helps other people as much as he helped us."
The Lubases have created the McKeever Scholars program, which provides funds for collaboration between the University Honors Program and premedicine/preveterinary students, support of Phi Delta Epsilon honor society activities, travel to conferences and seminars, shadowing experiences, and enhanced research opportunities. A second fund, the McKeever Scholarships, provides financial awards to premedicine and preveterinary students.
"We hope this legacy will help enable Georgia Southern's continued success in producing the multi-talented individuals pursuing professional careers as veterinarians or physicians," Janet said. Both Scott, a former cancer therapy researcher at the Medical College of Georgia and West Virginia University, and Janet needed jobs while they pursued demanding coursework. Working was a financial necessity, but it caused them to miss out on some learning opportunities with peers and professionals as well as miss exposure to cutting edge literature and research in the medical field.
The couple wants promising students to be able to focus on those kinds of experiences in addition to classroom and lab work. Their gift makes that possible. They're also hoping former classmates, now colleagues, will want to help their successors by honoring McKeever.
Back
© Pentera, Inc. Planned giving content. All rights reserved.