A Legacy of Giving
Donors: Dr. R. Frank Saunders, Jr.
Dr. R. Frank Saunders, Jr. Memorial Scholarship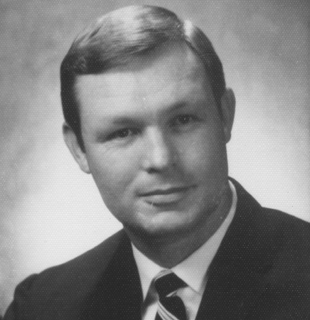 Dr. R. Frank Saunders, Jr.
Until his retirement in 1996 from Georgia Southern's department of history, the late Dr. R. Frank Saunders, Jr. ('57) always expected students to give their best. "My brother enjoyed sharing his deep love of history, but he also expected his students to excel," said Betty Saunders Anderson ('59).
Saunders also felt that it was important to help students struggling financially. "Frank wanted students to have the opportunity to finish college, and his long-term goal was to provide a scholarship for future generations of Georgia Southern students," explained Anderson about the Dr. R. Frank Saunders Jr. Memorial Scholarship. The scholarship is awarded to junior- or senior-level students majoring in history with a minimum 3.0 GPA. Growing up on his family's farm near Portal, Georgia, Saunders' devotion to history was also intertwined with his deep appreciation of the land.
The second gift Saunders bequeathed to the University was the Garden of the Coastal Plain's Smokehouse Garden, which memorializes him and his parents, R. Frank Saunders, Sr. and Mollie Lanier Saunders. "Frank wanted the land preserved and made better for the next generation. He loved plants and spent a lot of time at the Garden," said Anderson. "He enjoyed listening to our parents and grandparents tell stories about growing up on plantations," she added. Saunders is widely recognized for his significant contributions to local and regional history including the Bulloch County Bicentennial, conducting oral history projects, and founding the Georgia History Quiz Bowl—for which he won the Governor's Award in the Humanities.
He also wrote the play "Between Hopeulikit and Piddleville: Portal Celebrates 100" for Portal, Georgia's centennial celebration in 2008. Saunders and his former professor Dr. George Rogers co-wrote Swamp Water and Wiregrass: Historical Sketches of Coastal Georgia about the history of Liberty County. The collaborators were also the pioneers of Georgia Southern's Special Collections in the Zach S. Henderson Library, traveling many miles throughout South Georgia acquiring the papers and artifacts of prominent people and organizations—which formed the foundation of the historical collection.
Saunders cared very much about educating others on the region's history, and the scholarship ensures that students will have the opportunity to continue his legacy.
Dr. R. Frank Saunders, Jr. Memorial Scholarship
Student Recipient: Thomas "Cody" Waters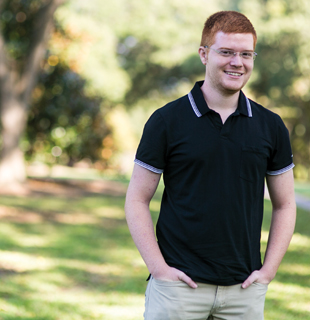 Thomas "Cody" Waters
Thomas Cody Waters believes he discovered his life's calling in the eighth grade when he was captivated by the lessons of his history teacher. He recalled the educator was so enthusiastic about teaching Georgia history that she inspired him to become a high school teacher.
It also didn't hurt that while growing up in Sylvania, Georgia, Waters spent many hours reading history and other books at the library in Screven County where his mother worked as the children's coordinator. "I happen to like learning about the past," he explained. "I think it provides valuable lessons about how we should live in the present and the future."
Now that he is a senior at Georgia Southern, the president of the Phi Alpha Theta History Honor Society is more committed than ever to one day return to the classroom in his hometown to share the lessons he learned from his University professors.
As a recipient of the R. Frank Saunders Memorial Scholarship, Waters said that it was even more meaningful because it was created in recognition of the late faculty member who grew up in the area and had a tremendous impact on students in the department of history. "This scholarship gives students like me, who may not have financial resources, the opportunity to pursue their goals and a chance to live their dreams," said Waters.
"In my personal statement to the family I told them how much it meant and how much it is helping me get to where I want to be. If all goes well, I hope to one day be able to do this myself." After graduation next May, Waters plans to earn a master of arts in teaching at Georgia Southern. He is excited for what lies ahead and credits the University for helping him achieve his goals through its academic programs, scholarship awards, and faculty. "I haven't been let down by anything here. I really like the history department and I love everything about Georgia Southern."
Back
© Pentera, Inc. Planned giving content. All rights reserved.