Shaping the Future
Donors: Mark & Jenny Lynn Anderson
Mark Anderson Scholarship in Business and Jenny Lynn Anderson Scholarship in Communication Arts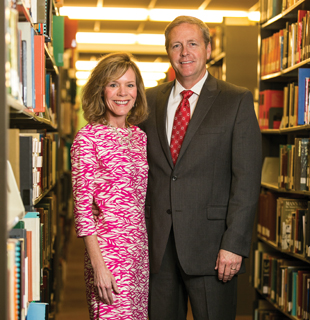 Jenny Lynn and Mark Anderson
For Mark ('85) and Jenny Lynn Anderson ('85) something as simple as a shared love for Georgia Southern inspired a commitment to the University that has provided opportunities and impacted future generations of students. More than a decade ago the couple made a decision to endow two scholarships: the Mark Anderson Scholarship in Business and the Jenny Lynn Anderson Scholarship in Communication Arts.
"One day Mark came home and said, 'We need to create scholarships. This is important and we can make a difference in students' lives,' " Jenny Lynn recalled. "I took his lead and we created scholarships in our respective departments. We both love our disciplines equally. I love public relations more than anything, and this is a way that I can celebrate my love for the discipline I chose to study and it makes me happy," she said. "I wanted to recognize and reward students who were trying to make good grades while also becoming involved in public relations activities outside the classroom," she said. "So many times students never get a bonus, and this is a bonus for hard work."
Through the years Jenny Lynn has further supported the department of communication arts through her service as an advisory board member as well as a mentor for students. Mark knows that scholarships can make a difference. As a college student he had to work full-time while attending school. "I wanted to help in some small way by providing a scholarship for students struggling financially," he added about his desire to make college affordable. "I would have appreciated a scholarship as a student, and I hope this will allow students to spend more time working toward their degree," said Mark, the owner of Joiner-Anderson Funeral Home. Mark's active involvement with entrepreneurship programs through the College of Business Administration also includes serving as a board of trustees member for the Center for Entrepreneurial Leadership.
"Georgia Southern holds a special place in our hearts," explained Jenny Lynn about the importance of establishing their scholarships. "We have experienced all of the benefits of the University. You can't always be takers, you have to give."
Mark Anderson Scholarship in Business
Student Recipient: Patrick Mimbs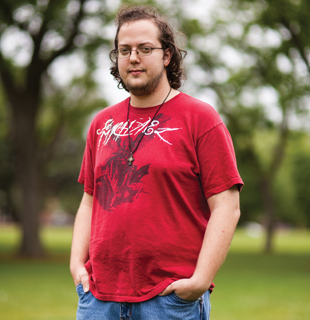 Patrick Mimbs
With the help of the Mark Anderson Scholarship in Business, Georgia Southern undergraduate Patrick Mimbs is well on his way to carving out a future career in the business world. Yet, when the senior first enrolled in college elsewhere to major in visual and game programming, he had no idea his educational journey would lead him to the field of accounting.
He transferred to Georgia Southern to major in management with an emphasis on small business and entrepreneurship. He decided to explore accounting after he scored 100 on his first test in the managerial accounting class of College of Business Administration Professor Dr. Thomas Buckhoff. "Dr. Buckhoff asked me if I had ever considered accounting," said Mimbs, who told the professor he had never envisioned himself as an accountant. Still unsure if an accounting major was right for him, Mimbs credits "divine intervention" for leading him in the right direction when he tried to sign up for an intermediate accounting class and discovered all the classes were full.
"That's when I asked God if he wanted me to do this and if not to show me what I should do," the senior said. "I checked on the computer and found the class had opened up." The Dublin, Georgia, native said the Mark Anderson Scholarship in Business has allowed him to continue his studies and has eased the financial burden on his parents.
"I had dinner with Mr. Anderson at Manny's and thanked him for helping students," Mimbs said. "His scholarship is another example of how someone can care enough about others to help them with their education."
Jenny Lynn Anderson Scholarship in Communication Arts
Student Recipient: Bree Haggard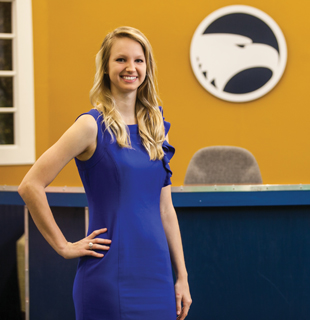 Bree Haggard
Bree Haggard is on a mission to obtain her bachelor's degree in multimedia communications with an emphasis in information so that she can pursue her lifelong dream of working as a broadcast journalist. The Phi Eta Sigma honors student with a 3.96 GPA said she has loved the camera for as long as she can remember. "I have old videotapes of me in elementary school when I would play pretend newsroom for Channel 2 Action News in Atlanta."
The graduate of Commerce High School in northeast Georgia is well on her way, thanks to the assistance of the Jenny Lynn Anderson Scholarship in Communication Arts. The two-time recipient of the award says she couldn't be more grateful to the donor. "The timing of it was just what I needed, especially last year when my family was having financial trouble," Haggard said.
The undergraduate is getting as much experience as she can now, hoping it will help her land her dream job when she graduates next year. She has reported for local radio and cable channels and spent this past summer as an intern for the daily online edition of the Athens Banner-Herald.
The senior who never visited Georgia Southern before move-in day said she took a chance and followed her instinct to attend a college four hours from home. "The first year was extremely difficult and I thought about transferring," said the Southern Ambassador, who has conducted campus tours for prospective students. "I am so happy I stuck it out because I have learned so much about myself and become independent. I wouldn't trade the experience for anything."
Back
© Pentera, Inc. Planned giving content. All rights reserved.