Enriching Education
Donors: Kathy & David Harrell
The Harold M. and Catherine D. Sandiford Memorial Scholarship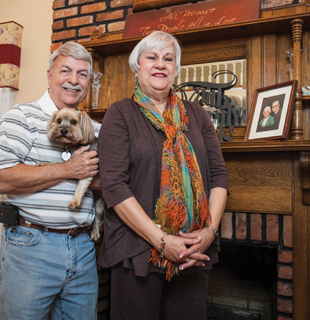 David and Kathy Harrell
To become a special education teacher, the unimaginative, timid, or easily discouraged need not apply. Or, in the words of Kathy Sandiford Harrell, "These are the kids who need powerful teachers."
Harrell ('71), a longtime special education teacher and administrator, and her husband Dave ('71) have made a perpetual commitment to serving special education by endowing the Harold M. and Catherine D. Sandiford Memorial Scholarship—which assists aspiring special ed teachers within Georgia Southern's College of Education.
Special education is a challenging field, and chief among the challenges is getting and keeping enough qualified good teachers. "I spent 20-something years in special ed and six as a special ed director in Wayne County and knew the challenges that the field is facing," said Harrell. "I also knew that I would like to do something for Georgia Southern because I had a good experience there."
"I said to Dave that at some point I'd really like to look at somehow impacting this field. Honestly, these are the kids who need powerful teachers, and it's not an easy field for longevity," she said. "We need to encourage folks to stay the course. We were in a position where we could do something, and he supported me in that."
Neither of Harrell's parents finished high school. To attend college, she took out an education loan. When she was done, her father repaid the loan—an expression of parental love she has never forgotten. The choice to name the scholarship after her parents was Dave's idea. "My mom and dad were a team and missed hitting their 50th anniversary by just a few months. They were so adamant that my sisters and I fulfill our dreams," she said. "They both worked very hard at making sure we had the opportunity, so to continue that in their names is something I felt like I wanted to do."
Back
© Pentera, Inc. Planned giving content. All rights reserved.