Making a Difference
Donor: Samantha Grovenstein-Deal
Susan Rebstock Williams Business Technology Scholarship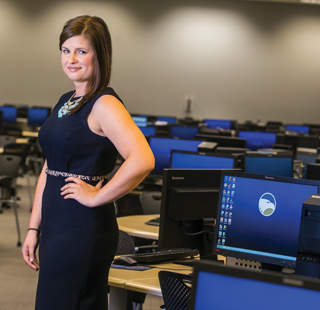 Samantha Grovenstein-Deal
As a student, Samantha Grovenstein-Deal ('05) discovered that sometimes a little bit of guidance and determination can lead to good things. "When I was a senior in high school, I began taking courses at Georgia Southern to get ahead academically," she said, a decision which provided her with two scholarships. She eventually graduated with honors and dual degrees in information systems and accounting. Fortunately for Georgia Southern University students, Grovenstein-Deal's academic and career success has led to her endowment of the Susan Rebstock Williams Business Technology Scholarship.
While this makes Grovenstein-Deal the youngest person ever to endow a scholarship at Georgia Southern at the age of 29, she views this opportunity as a way to demonstrate her appreciation to the University that gave her so much. "Without the scholarships I received as an undergraduate, I wouldn't have this career right now," she said about her work as a technical product manager for Wolters Kluwer/CCH—a company that provides information and software services for CPAs, corporate tax and accounting departments, and tax attorneys.
For Grovenstein-Deal naming the scholarship after Williams was a no-brainer. "Susan is the best mentor that a woman in the technology program could ask for," she said, praising the information systems professor she feels truly influenced her academic and professional career path. Williams, the former chair of the information systems department and associate dean of the College of Business Administration, has taught systems programming and database classes since 1994 at the University and is the recipient of the Award for Excellence in Teaching in COBA as well as the William A. Freeman Professor of the Year Award.
"I want other young women to have the same chance that I had. I look at my profession and there aren't enough women in true technology roles. I decided that I wanted to do something to make a difference. Seeing the hard work and dedication of high performing women I work with each day only reinforced my decision," said Grovenstein-Deal about her reason for endowing the scholarship—which is presented annually to a female sophomore, junior, senior, or graduate student pursuing a degree in the field of information systems.
Susan Rebstock Williams Business Technology Scholarship
Student Recipient: Tereion Jazmin Heath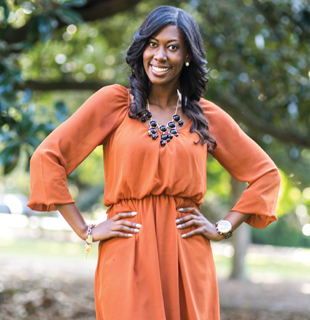 Tereion Jazmin Heath
Tereion Jazmin Heath easily acknowledges that the Susan Rebstock Williams Business Technology Scholarship has pushed her to continue to excel academically and has shown her that hard work and dedication can be rewarded. "Being selected as a recipient of this scholarship lets me know that someone thinks highly enough of me to feel that I deserve this scholarship," said the honors student. The senior from Lithonia, Georgia, said her affinity for computers and hands-on tasks led to her decision to pursue the information systems business degree and a minor in management. When she graduates next year, Heath hopes to begin a career as a business analyst for a U.S.-based company.
"I know how frustrating it can be when the product doesn't operate to meet your specific needs," she said. "With a degree in information systems, I can use my technical skills to communicate with IT professionals such as programmers and developers, and together we can create a product that works best for the customers." While she may sound all business, the College of Business Administration undergraduate is involved in several on campus activities including Alpha Kappa Alpha Sorority, which allows her to engage in volunteer projects and assist the local community.
"I am a Southern Ambassador for the University, which means I give tours to prospective students and their families," she explained. "I am also a member of the National Council of Negro Women and numerous honor societies—one being Beta Gamma Sigma, the business honor society." The only child of parents who always encouraged her to follow her heart and "do whatever brings me the most joy" said she fell in love with Georgia Southern's gorgeous campus during an Open House visit. "My tour guide seemed really knowledgeable and passionate about the University. This made me excited about being around people who truly had a love for their school."
Back
© Pentera, Inc. Planned giving content. All rights reserved.