A Caring Legacy
Donors: Crawford & Jane Hendrix
Sally Janese Hendrix Memorial Scholarship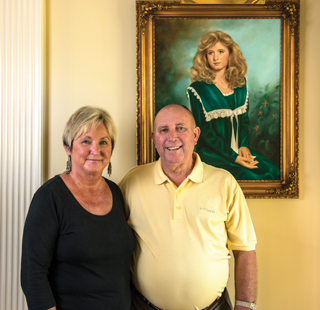 Jane and Crawford Hendrix
For Crawford and Jane Hendrix every day brings heartfelt memories of their daughter Janese, a Georgia Southern freshman who tragically died in a car accident in 1988. The Hendrixes have turned a life tragedy into a lasting tribute with the endowment of the Sally Janese Hendrix Memorial Scholarship, a legacy that provides educational opportunities for Georgia Southern students.
According to the Hendrixes, Janese was full of life and full of promise for the future at the time of her death. The graduate of Southeast Bulloch High School was an academically gifted, award-winning student with a determination to major in communication arts. "During Janese's senior year in high school she won every award from the student body, from homecoming queen to senior superlative," said her father Crawford.
Even more important, the Hendrixes recalled their daughter's kind and generous spirit. "Janese's purpose in life was to help people," said Jane. "She was genuinely a friend to all she met. She had many hopes and dreams, and in addition to the scholarship she is honored in other ways every year. In fact, some of Janese's friends have named their children after her," she added. The Sally Janese Hendrix Memorial Scholarship benefits a recent Southeast Bulloch High School graduate enrolled as a University freshman; and since 1988, 25 students have been awarded the scholarship. In addition to the Hendrixes' generosity, other donors include family members, friends, and past recipients of the scholarship.
The Hendrixes have also ensured that Janese's legacy will continue for future generations of Georgia Southern students as well. "We have made a deferred gift to the University, so Janese's scholarship will continue after our deaths," said Jane.
"This scholarship is a way of continuing what she would have wanted—which is continuing to help others, especially those attending two schools that meant so much to her. She will never be forgotten with this scholarship, and it is also a way for us to honor her every year."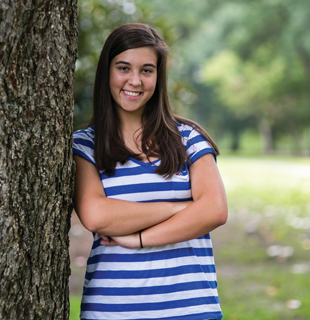 Kelsey Waters
Sally Janese Hendrix Memorial Scholarship
Student Recipient: Kelsey Waters
The decision to attend Georgia Southern University was an easy one for 18-year-old Kelsey Waters, who wanted to stay close to home and follow her mother, alumna Penny Deloach Waters( '75.) to the Statesboro campus.
The freshman from Brooklet, Georgia, is the latest recipient of the Sally Janese Hendrix Memorial Scholarship and said receiving it has been priceless in numerous ways considering college is so expensive. Waters is the second oldest of four girls and said the financial award is a blessing to her and her family. She expressed her appreciation for the scholarship and the extensive support the Hendrix family has given to students at Southeast Bulloch over the years. "I think that Janese Hendrix set a good example for me and others to follow," she said. "It is wonderful to know that I received a scholarship in honor of a girl who was so involved in our high school and our community."
Like Hendrix, Waters was also involved in a number of leadership activities as a student at Southeast Bulloch High School. She found her community involvement to be especially inspiring and meaningful, such as the time she spent as a member of the Bulloch County Special Olympics Committee. Waters also competed in various competitions that included the FFA (Future Farmers of America), was a member of the FCCLA (Family, Career and Community Leaders of America), and played soccer as a freshman and sophomore. As she becomes acclimated to her new life on campus, Waters expects to continue her involvement in the community and service to others. With a bright future ahead and endless possibilities, Waters is considering early childhood education as her major but admitted she could switch to preveterinary medicine. "I love animals as much as I love children," she said. Waters has settled into a University residence hall and is enjoying both academic and campus life. "At first I was concerned about getting lost because the campus is so big, but I figured it out and had no problems making it to my classes on time," she said. "I am so happy that I decided to come to Georgia Southern. Everyone has been so nice and the professors are so helpful."
Back
© Pentera, Inc. Planned giving content. All rights reserved.