Soaring Eagles Legacy Society
Georgia Southern University is indebted to the founding "fabulous fifty" who, on December 1, 1906, gave to the future a gift called "the people's school" that was intended to inspire hope for future generations. Whether known as First District A&M School, Teachers College, Georgia Southern College or, today, Georgia Southern University, these institutions historically created and have fostered a wide range of enduring traditions that distinguish the University from its national peers and deepen the bonds that were established on the campus. The Eagle Nation is built on these bonds—soaring on the generosity and commitment of alumni, families, and friends who have supported and continue to invest in students and tomorrow's future leaders, outstanding faculty and staff, and continued excellence at Georgia Southern. We are deeply grateful for your continued support for and investments in our great University.
In recognition of the importance of planned gifts to Georgia Southern, this group was named Soaring Eagles Legacy Society after the University's mascot, which was first announced by Georgia Southern in January 1960 following a student competition. "The Eagles" was suggested by Ralph Swords, a sophomore business major from Augusta, Georgia, whose winning entry in December 1959 was selected from among 104 entries of students and faculty. Similar to the memories created from the University's long-standing traditions, planned gifts provided by Georgia Southern's alumni and friends will last forever.
Annual Recognition & Events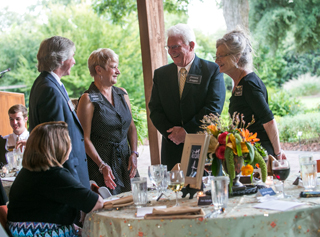 As a distinguished member of the Soaring Eagles Legacy Society, you will receive invitations to events including the annual "Soaring Eagles Legacy Society" celebration, featuring Georgia Southern's leadership, faculty, and student scholars. Georgia Southern publicly recognizes Soaring Eagles Legacy Society members who have provided planned gifts to the University and permission to use their names on the prominent Soaring Eagles Legacy Society's Honor Roll prominently displayed in the Bishop Alumni Center.
Soaring Eagles Society Membership
If you have provided a planned gift to Georgia Southern, please contact our Office of Trusts, Estates, & Gift Planning to join the Soaring Eagles Legacy Society. Membership eligibility includes, among others:
A bequest to the Georgia Southern University Foundation in your will or living trust
Georgia Southern named as a beneficiary in your life insurance policy or retirement account, charitable remainder trust, or charitable lead trust
Creating a charitable gift annuity at Georgia Southern
Deed your real and/or personal property to Georgia Southern
Back
© Pentera, Inc. Planned giving content. All rights reserved.