Inspiring Others
Donor: Spence & Sheila Hoynes
Spence and Sheila Garvin Hoynes Endowed Scholarships in Education & Athletics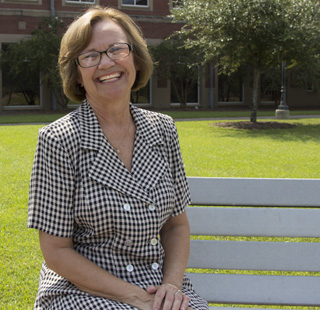 Sheila Hoynes
Sheila Garvin Hoynes ('71) realizes that attending college is a wonderful opportunity that many students do not have. The Statesboro native was the first person in her family to graduate from college, and she spent her 30-year career in the classroom as a first grade teacher.
She feels a debt of gratitude not only to her parents but to the University. "Georgia Southern gave me the opportunity to fulfill my lifelong dream of becoming a teacher, and I want to be able to help other students who are pursuing the same dream," said the 2011 College of Education Alumna of the Year.
Sheila and her husband Spence shared a vision of providing an opportunity for aspiring students to afford a college education but were unsure how they could make this a reality. "We knew we wanted to establish scholarships, but we also knew we lacked the financial means to adequately fund the scholarships up front without creating economic hardship for ourselves," said Spence. "It was when we learned about deferred giving that we found a way to accomplish our goal," he added about the establishment of the Spence and Sheila Garvin Hoynes endowed scholarships. "With Sheila's dedication to education and our devotion to Georgia Southern athletics, it was obvious that we needed to establish two scholarships? one in education, and one in athletics," said Spence about their deferred gifts for future students.
After raising their son, the Hoynes became reacquainted with the University and have been actively involved with Georgia Southern for more than two decades. Sheila launched an Eagle Club in their hometown of Conyers, Georgia, organized several additional Atlanta-area clubs, and served as president of the Alumni Association board of directors. She also served as a member of the Athletic Foundation Board of Directors and as a charter member of the College of Education's alumni board of advisors.
"Georgia Southern is our passion," Sheila explained about the couple's will bequest. "The University was important to me as a student, and it is so nice to continue our involvement many years later."
Back
© Pentera, Inc. Planned giving content. All rights reserved.